full article:
Health workforce shortages and mal-distribution continue to constrain the equitable delivery of healthcare services to much of the Australian population living outside of metropolitan and adjacent conurbations1. In response, there has been substantial investment during the past 15 years in rural clinical school infrastructure and an increase in medical student numbers, particularly those with a rural background2.
Included in this expansion is the James Cook University (JCU) School of Medicine, which was established in 1999 almost 1400 km north of the nearest metropolitan area of Brisbane to address the workforce needs of underserved populations in northern Australia3. This predominantly undergraduate entry Bachelor of Medicine, Bachelor of Surgery (MBBS) program has applied the available Australian and international evidence on rural student selection, curriculum and assessment design, and placement location4-8. Several other new medical schools around the world have followed similar developmental pathways9.
Following this substantial investment it is important to determine the effectiveness of these innovations. It is, however, early days for such long-term strategies. Most studies so far show that student intentions to practise rurally increase after experiencing undergraduate rural placements1,10,11, and that students from a rural clinical school are more likely to choose an internship at a regional hospital12,13. However, the Australian evidence that regionally-located medical schools and/or undergraduate rural placements actually result in significant numbers of graduates practising post-internship in a rural location is inconclusive14,15. Furthermore, there are many influences on a graduate's decision to practise rurally, making it difficult to separate the influence of prior intent from curricular experiences, regional familiarity associated with long-term clinical placements and external life events.
This paper presents early evidence for the effectiveness of the first of Australia's new, regionally-located medical schools. Postgraduate practice locations of the initial seven cohorts are described for postgraduate years (PGY) 1-7, with additional analyses showing the associations between applicants' hometown origin, internship location and practice location.
Design
This analysis of practice location data is part of an ongoing longitudinal cohort study that will continue to provide information about JCU MBBS graduate outcomes. Annual practice location data was obtained for graduates in the first seven cohorts who entered the workforce as interns (PGY 1 doctors) from 2006 to 2012, PGY 2 from 2007 to 2012, etc. Data are thus available for seven cohorts in PGY 1, six cohorts in PGY 2, and so on. Correspondingly, location of practice in 2006 reflects one cohort, and two cohorts in 2007, etc.
Practice location
Practice location data and information on postgraduate training undertaken were obtained from several sources. Consent to join an alumni contact list and permission for subsequent contact by the medical school via email, telephone and Facebook was obtained from an annual exit survey of graduating medical students, which has been conducted since 2005 as part of the JCU longitudinal tracking project on graduate outcomes. Contact was made by email and telephone communication, and via a JCU School of Medicine Facebook page, which was initiated on student advice in 2005 and has been continued since for all graduating cohorts. These three strategies provided practice location data for 456 of 536 (85%) of all graduates from 2005 to 2011.
Additional data on practice location data was sourced from the Australian Health Practitioner Regulation Authority (AHPRA) website (http://www.ahpra.gov.au), the validity of which was checked by a comparison of 20 practice locations obtained via direct contact, showing agreement for 18/20 (90%) of cases. In combining these strategies, practice locations could be identified for 530 out of a total of 536 graduates, representing 99% of all graduates. The latest available data from 2008 on the practice location of Australian clinicians and proportion of population they serve were sourced from the Department of Health and Ageing2.
Hometown location
'Hometown at application to medical school' data for JCU MBBS graduates were retrieved from administrative databases held by the university and were available for 499 graduates (93% of the total). Data for the town Australian medical students commencing in 2011 'had lived in the longest' was obtained from the Medical Schools Outcomes Database (MSOD) project16.
Defining location rurality
The Australian Standard Geographical Classification Remoteness Area (ASGC-RA) index was used to categorise location data - both for hometown and practice since graduation - into 'metropolitan' (RA 1), 'inner regional' (RA 2), 'outer regional' (RA 3), 'remote' (RA 4) or 'very remote' (RA 5)17. Graduates who did not spend an entire calendar year in one location were classified according to the self-defined location they provided when asked where they had spent the majority of the year. The term 'non-metropolitan' was used for categories RA 2-5, and the term 'rural' for categories RA 3-5.
Specialty choice
Data on specialty training choice was described for only the first four graduating cohorts (2005-2008) to allow at least four years for graduates to choose their desired specialty.
Analysis
Graduates' PGY 2-7 practice locations across RA 1-5 were categorised depending upon their hometown at application and practice location of internship year. Graduates having a 'metropolitan (metro) hometown & metro-based internship' were compared to graduates having a 'non-metro hometown & metro internship', 'metro hometown & non-metro internship' or 'non-metro hometown & non-metro internship'. Analysis involved the estimation of odds ratios (OR) with associated confidence intervals using the Woolf (logit) method18, and the calculation of p values using two-tailed Pearson χ² tests.
Ethics approval
Ethics approval for the study was obtained from the JCU Human Research Ethics Committee; ethics approval number H1804.
The primary location of practice for graduates' internship and later postgraduate years are shown in Table 1. As shown in Table 2, the 536 tracked JCU MBBS graduates spent a total of 1925 'graduate-years' practising in Australia (not including years graduates practised overseas, missing or not in the medical workforce). About 60-70% of graduates in these seven cohorts worked as interns outside of major cities (RA 1), including 20% in RA 2 and 44% in RA 3-5, supporting previously reported data11. Figure 1 shows the geographical spread of the communities within Australia where JCU MBBS graduates are known to have practised all or most of a 'graduate-year' between 2006 and 2012. These demonstrate a non-metropolitan pattern of practice, predominantly in regional Queensland, with the most popular internship locations being Townsville (311 graduate-years) and Cairns (128 graduate-years).
Table 2 shows that the majority of the 499 JCU MBBS graduates with an identified home town at application had non-metropolitan home locations: 82 (16%) were from a major city (RA 1) and 313 (63%) from a rural location (RA 3-5). Tables 3 and 4 show how practice locations across PGY 1-7 relate to graduates having a non-metropolitan (RA 2-5) or metropolitan (RA 1) hometown at application to medical school, and by undertaking their internship in either a non-metropolitan (RA 2-5) or metropolitan town (RA 1), respectively. Non-metropolitan origin graduates predominantly chose inner regional or rural towns to undertake their internship (69%), while metropolitan origin graduates predominantly chose major cities for their internship (57%), and this pattern remained similar across PGY 2-7. Interestingly, 6% of non-metropolitan origin graduates were practising in a remote or very remote town across PGY 4-7, compared to almost none of the metropolitan origin graduates, although numbers are low and statistical significance cannot be calculated.
Differences in the distribution of graduates' practice location across PGY 1-7 are noted in relation to the location of internship. Table 4 demonstrates that by PGY 6 and 7, around 30% of JCU MBBS graduates who undertook a non-metropolitan internship were practising in a major city location (RA 1), while around 60% of graduates who undertook a metropolitan internship were practising in a major city. Table 3 also shows a similar proportion of metropolitan origin graduates were practising in metro areas in PGY 6 and 7 (57%) as non-metro-origin graduates were practising in a non-metro location in PGY 6 and 7 (67%).
Table 2 summarises the data on JCU graduate locations from 2006 to 2012, and provides a comparison with data on the hometown location of these graduates and of all commencing Australian medical students in 201116, as well as demographic data on the distribution of Australian medical practitioners and the Australian population2. Sixty-three per cent of JCU MBBS graduates had a hometown in RA 3-5 at application to medical school, compared with 13% of all Australian medical students. Further, Australian clinicians were predominantly located in RA 1 and 2 locations in 2011, with only 6% practising in rural or remote locations (RA 3-5)2; in contrast, 43% of JCU MBBS graduate-years were spent in rural or remote locations between 2006 and 2012.
Table 1: James Cook University MBBS graduates' primary location of practice in postgraduate years 1-7?






Table 2: Summary of James Cook University MBBS graduates' hometown at application and postgraduate years 1-7 primary location of practice in ASGC-RA locations, compared to the population of Australian clinicians and the general Australian population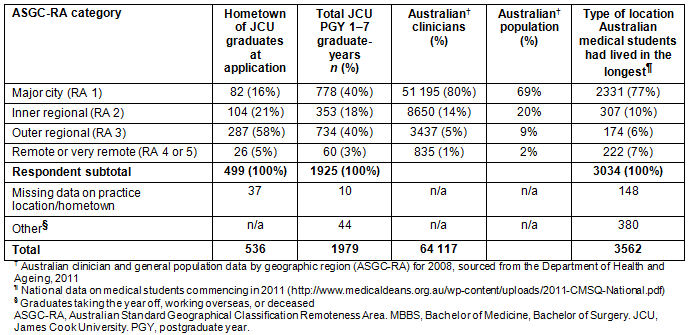 Table 3: Practice locations for James Cook University MBBS graduates across postgraduate years 1-7, classified by ASGC-RA of hometown at application to medical school (non-metropolitan centre ('non-MC') = RA 2-5 location, and metropolitan centre ('MC origin') = RA 1 location)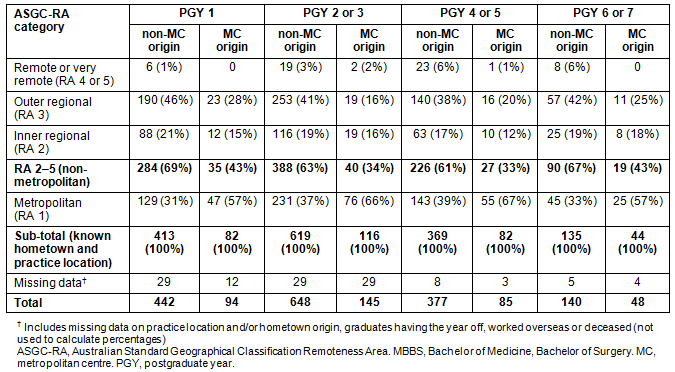 Table 4: Practice locations for James Cook University MBBS graduates across postgraduate locations 1-7, classified by ASGC-RA location of internship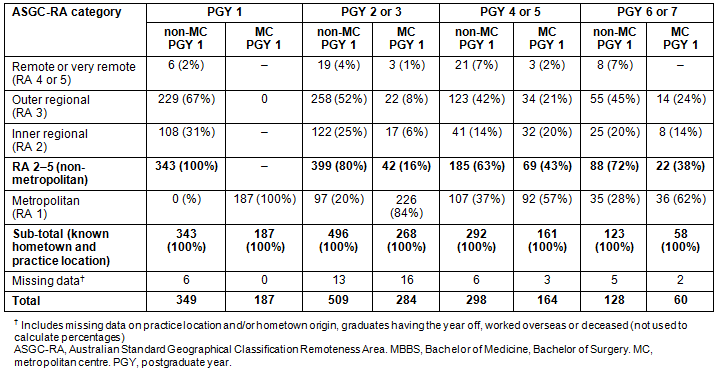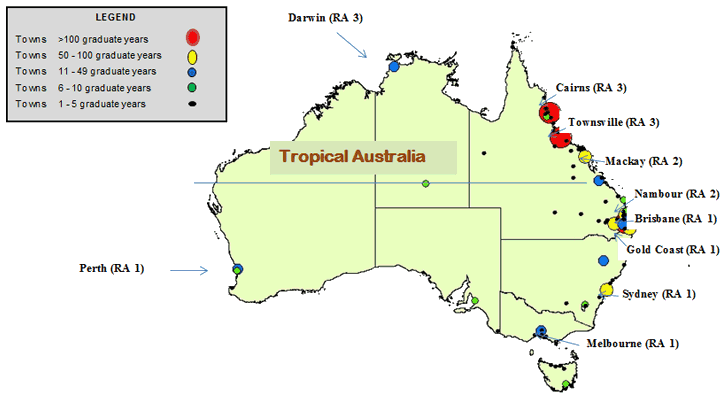 Figure 1: Australian locations of 530 James Cook University medical graduates for most or all of a calendar year, 2006 to 2012. Red dots: Townsville, Cairns and Brisbane; yellow dots: Mackay, Nambour, Gold Coast, Sydney and Toowoomba; blue dots: Rockhampton, Darwin, Perth, Melbourne, Sunshine Coast and Tamworth; green dots: Hobart, Fremantle, Innisfail, Bundaberg, Adelaide, Alice Springs, Hervey Bay and Canberra; Black dots, various smaller towns.