full article:
Chronic obstructive pulmonary disease (COPD) is one of the major, and still increasing, healthcare problems worldwide - causing considerable public health loss and increasing economic burden. The World Health Organization (WHO) defines COPD as 'a lung disease characterized by chronic obstruction of lung airflow that interferes with normal breathing and is not fully reversible'1. Diagnosis of COPD, besides presence of symptoms (like cough, sputum production, or dyspnoea) and physical examination, is mainly based on lung function testing (spirometry)1,2. Currently, COPD affects more than 200 million patients and has been predicted to become the third-leading cause of death within the next 20 years3,4. According to WHO, in Europe alone deaths from COPD are anticipated to rise by about 20%, from 248 000 in 2008 to about 300 000 in 20305-8. Given its increasing prevalence with age, and the inevitable ageing of societies globally, COPD probably poses one of the biggest threats for the world's healthcare systems.
Apart from the leading causative factor of COPD, which is tobacco smoking, other significant risk factors of this disease are cited by WHO, among them organic dusts (including biomass fuels and occupational dusts)9-11. According to the American Thoracic Society, in the USA occupational risk factors are responsible for about 20% of COPD cases in general (and, in case of non-smokers, this ratio goes up to about 30%)12,13. Indeed, occupational exposures, including organic dusts, are still an underestimated cause of COPD. This is particularly evident in relation to occupational biohazards affecting rural populations13,14. Millions of farmers and workers in the agricultural industry throughout the world are exposed to organic dust and thus the COPD morbidity in rural areas is usually higher than in urban areas15-34.
In Poland, no holistic epidemiological study, covering a representative sample of the Polish population, has been conducted concerning COPD35. In smaller studies COPD was identified in 10-26% of an examined group36-38. Respiratory diseases, led by the most frequently occurring one, COPD, are the fourth most common cause of death in Poland35,39. According to epidemiologic projections, the importance of these pathologies, including economic burden, will be increasing40.
The only study conducted in the Lublin region of Poland showed a high incidence of respiratory abnormalities of obstructive character in airways (11%) and a high ratio of patients from rural areas who did not receive proper treatment41. A study comparing rural and urban dwellers of the Krakow region supported the conclusion of higher prevalence of COPD in rural areas42.
Agricultural activity in Poland is still considerably higher than in many European countries (perhaps comparable only to countries such as France). Contrary to other Central and Eastern European countries, which also passed a period of Soviet domination, the land was never collectivized. The agricultural structure of small individual farms has prevailed43,44. Moreover, the decades under communist rule were characterized by increased fragmentation of the farm structure, leading to a growing number of small farms (1-10 ha). Even in 2005 the percentage of farms greater than 20 ha was only 4.5%45,46. Following this data, a number of farmers and inhabitants of rural areas is also considerable. A total of 16.2% of Polish inhabitants work as farmers. However, agriculture produces only 4.1% of Polish GDP47-50. Shrinking of agriculture share in Polish GDP caused by the economic transformation after 1989 was not followed by similarly significant adjustment in farmer numbers45,46,48. Only in the last few years has it started to bring a decline in the number of people employed on farms46,47.
Chronic conditions are strongly correlated with poverty. Socioeconomic status has been often described as an independent risk factor of a chronic condition51. This connection (also valid for COPD) has been thoroughly studied in developing countries52. However, growing evidence shows that in developed countries poverty and chronic diseases are also connected53-56. Lower socioeconomic status not only means lower quality of care but it also impairs prevention. It is more difficult for poor people to avoid the risk factor of a chronic disease, often due to lack of knowledge but also due to scarcity of resources57. This is especially difficult to address in rural areas as the management of chronic diseases, often requiring special policy tools, seems to be particularly difficult in remote places25,58. Rural areas are characterized by a significant distance to healthcare facilities, specialists, and by different epidemiologic features.
It is also worth mentioning that chronic diseases (including COPD) both in developed and developing countries used to affect mainly poorer parts of the population52-54. Additionally, COPD has an impoverishing effect on affected people59-63. In the rural area of Poland the issue of poverty connected to chronic diseases has been shown by Sygit et al64.
The aim of the study was to analyze the socioeconomic status of farmers suffering from COPD in comparison to healthy farmers.
Examined population
The presented work is a subject-based, cross-sectional study. A group of 30 farmers suffering from COPD (in stage I-II of the disease, according to GOLD (Global Initiative for Chronic Obstructive Lung Disease), an internationally recognized COPD classification), was examined2. The group comprised 17 men and 13 women, aged 54.3 ± 7.9 years (range 39-70 years). In the group 53.3% (16 persons) were tobacco smokers, 20% (6 persons) were ex-smokers, and 26.7% (8 persons) were non-smokers.
As a reference group 34 healthy farmers were examined. The group comprised 15 men and 19 women, aged 43.6 ± 13.1 years (range 20-68 years). In the group 23% (8 persons) were tobacco smokers, 12% (4 persons) were ex-smokers, and 65% (22 persons) were non-smokers.
The professionally active farmers - based on the diagnosis of COPD according to GOLD (stage I and II) and lack of other chronic illnesses for the first group, and lack of any chronic illness for the control group - were selected by their general practitioners from five rural communes in the Lublin region (south-eastern Poland): Fajsławice, Urzędów, Strzyżewice, Cyców and Kamionka (Fig1). The appropriateness of COPD diagnosis was additionally confirmed by a specialist of pulmonary medicine. (See 'Statistical analysis' below for results of statistical power calculation for sample sizes.)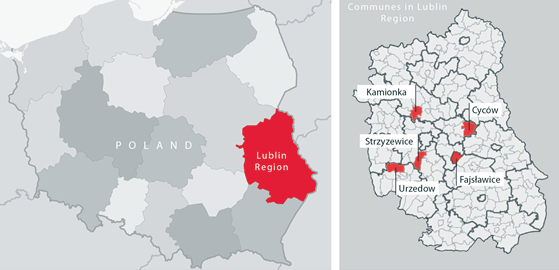 Figure 1: Patients and healthy study participants recruitment: map of Lublin region and five rural communes.
Lung function testing
To confirm the diagnosis of COPD and stage of the COPD progression, each examination was conducted with the use of EasyOne Model 2001 spirometer (Medizintechnik AG, Zurich, Switzerland). Forced vital capacity (VC), forced expiratory volume in the first second (FEV1) and FEV1/VC (%) were measured. Both pre-shift and post-shift lung function examinations were conducted. Results were expressed as absolute values and as percentages of predicted values. The lung function testing was in accordance with European Respiratory Society guidelines65.
Questionnaire examination
The data (including the area of land owned by farmers) were gathered by using the questionnaire developed and validated at the Institute of Rural Health in Lublin for the examination of work-related symptoms caused by organic dusts66. In Poland, the criterion of owned area of land expressed in hectares determines the status of a farmer in relation to healthcare insurance67-69.
Statistical analysis
Statistical analysis was performed by non-parametric testing using the Mann-Whitney U-test for analysis of the differences between area of farms in both healthy and COPD groups. The p<0.05 level was considered as significant. As non-parametric tests were used, the data were mainly described by median and 25th-75th percentiles (except the description of lung function parameters which, traditionally, are described as mean ± standard deviation (SD)). All statistical analyses were carried out with Statistica v8.0 (Statsoft Inc.; http://www.statsoft.com).
Statistical power, calculated for measured values (area of land in hectares) and sample sizes (number of individuals in each of the two groups), was calculated as 99.9% (p<0.05 level). The DSS Statistical Power Calculator was used (two-tailed test) (DSS Research; http://www.dssresearch.com/KnowledgeCenter/toolkitcalculators.aspx).
Ethics approval
All subjects gave formal consent to participate in the study. The Ethics Commission of the Institute of Rural Health approved human subjects' protocols (Decision No. 11/2006).
Lung function testing
The results of lung function assessment are shown in Table 1.
Land owned by farmers with COPD and by healthy farmers
Area of land owned by farmers with COPD (median: 1.5 hectares, 25th-75th percentile: 1.0-4.0 ha) was significantly lower than the area of farms belonging to healthy farmers (median: 7 ha, 25th-75th percentile: 3.0-10.0 ha) (p<0.0001, Mann-Whitney U-test). The results are shown in Figure 2.
Table 1: Lung function values in farmers with chronic obstructive pulmonary
disease (according to GOLD) and in healthy farmers. Values expressed
as mean ± standard deviation.