full article:
In dental public health, particularly in Australia, there is an ongoing debate about the extent of remaining dental disease in children. In Australia, over the past 30 years, the prevalence of dental decay in children has reduced significantly, where today 60-70% of all 12-year-olds are caries free, and only 10% of children have more than two decayed teeth1. This improvement is in no small part a result of the near universal population-level exposure to topical fluoride (be it water or toothpaste)2. However, many studies1,3 continue to report a small but significant subset of children suffering severe levels of decay, and this is typified by demands for general anaesthesia, in order to treat gross decay in children. This debate has and continues to be promulgated with data in the literature supporting both arguments3.
The real challenge facing society today, in this environment, is to find ways to target the sub-group of children at greatest risk with additional preventive (and treatment) strategies. School-based dental services with universal coverage have been the norm in Australia for at least 30 years4; but with the significant resources needed for these universal services, targeting becomes a real economic/healthcare debate and in the changed disease environment this debate needs to happen in an open and transparent manner. The reporting of childhood caries rates at the near-individual or high resolution is not made available for independent research in Australia; it remains shrouded in confidentiality agreements between state governments and federal analytical organisations.
In this study, a simulation approach was taken to recreate the baseline child-by-child data using methods previously published to overcome these closed data hurdles5. The present study applies Monte Carlo simulation5 to examine, at the national level, 12-year-old decayed missing or filled teeth (DMFT) and shed light on both the statistical limitation of Australia's reporting to date as well as the problem of targeting high risk.
All data was from open sources and therefore no ethics approval was required for the study6-9. All data collected and reported is for 12-year-olds unless otherwise stated. Based on previous studies it is accepted that dental decay in Australian children is strongly linked to socioeconomic strata; poorer children suffer greater levels of decay. In addition, it has been previously clearly identified by the authors of this study (and others) that Indigenous children suffer greater levels of decay than other children10-15. Against this backdrop these two factors (socioeconomics and Indigenous status) were chosen as the drivers of the simulations to generate child-by-child DMFT for 12 year-olds living in Australia. The process of simulation has been previous published and will not be covered in detail here5. In short, the simulation rests on the application of rates of decay (and missing and filled teeth) for different subsets of the population (as published in the literature) applied in a randomly seeded approach to the entire population (in this case all Australian 12-year-olds). In this simulation of socioeconomic status, Indigenous status and population numbers were collected from the most recent census (where complete data is available - 2006) to drive the simulation6-15. The simulation was completed using personally developed software (Visual Basic v6.0; http://msdn.microsoft.com/en-au/vbrun/ms788229.aspx). All resultant data was outputted to CSV (comma-separated values) format and imported into MySQL (community edition, Oracle USA; http://www.mysql.com) for analysis. The outcomes of the simulations were clustered at various geographic levels, and these were imported into QGIS (v1.8.0, open source, http://www.qgis.org/en/site) with the matching boundary files to map the outcome data to geography. Boundary files for state, statistical regions (SR) and local government areas (LGAs) were used.
A Monte Carlo simulation for all 273 000 Australian 12-year-old children (with 5% being Indigenous (derived from the census data4) was completed. This method allocated simulated children to geographic locations based on the known distribution of children derived from the census data4).
Statistical region level
Australia is divided into 65 non-overlapping/no-gaps statistical regions by the Bureau of Statistics. Each region has between 1300 and 9000 12-year-olds. The estimated DMFT ranges from 0 to 1.2. The state-by-state breakdowns of the estimated DMFT rates are presented in Table 1. However, they are complicated by the high variation in the number of statistical regions per state. The distribution of the values geographically is presented in Figure 1.
Table 1: Decayed, missing or filled teeth ranges for statistical regions in each Australian state/territory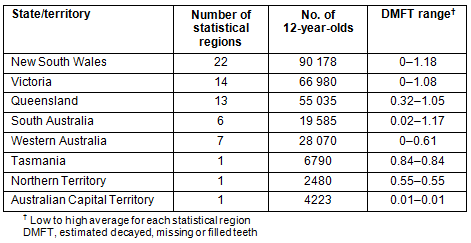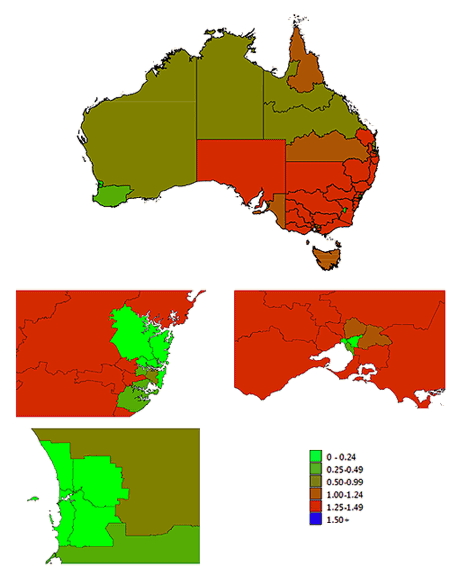 Figure 1: Estimated 12-year-old decayed, missing or filled teeth for each statistical region of Australia. High-magnification views of capital cities (Sydney, top left; Melbourne, top right; Perth, bottom left) are presented below the national map.
Statistical region subset level
Australia is divided into 85 statistical region subsets determined by the Bureau of Statistics. Each region has between 160 and 9000 12-year-olds. At this scale level, the average estimated DMFT ranges from 0 to 1.2. However, approximately 120 000 12-year-olds (45%) are estimated to live in each statistical region subset (SRS) where the average DMFT is between 1 and 1.25 (Table 2). It is important to notice that at this level of geographic clustering no region appears to have a DMFT in excess of 1.25. Clearly, this is in contrast to the existing literature4 and known levels of decay in some children and is the apparent result of averaging.
Table 2: Number of 12-year-olds estimated in each statistical region subset (SRS) across Australia and average decayed, missing or filled teeth within each SRS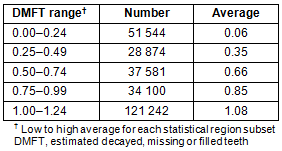 Local government area level
Australia is divided into 556 local government areas determined by the Bureau of Statistics. Each area has between 2 and 11 000 12-year-olds. At this smaller level of geographic distribution the range of estimated average DMFT scores extends to just under 2.5 (Table 3). However, this coupled with the wide range in population provides a different analytical risk (low sample size). The geographic distribution of the local government areas find that highest estimated DMFT are not in the major cities but are found in rural, regional and remote Australia (Fig2). Even when low population local government areas (fewer than 50 12-year-olds) are eliminated from the study the high acuity analysis paints a very different picture to that presented at the cumulative level of SR (Fig1).

Table 3: Estimated number of 12-year-olds in each decayed, missing or filled teeth range measured at the level of local government areas