Profiles And Contributions To This Article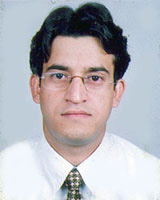 qualifications: MSc(Zoology)
contribution: collected data
position: Senior research fellow
We are working in a primitive tribe of central India. We are investigating genetic & non-genetic causes of high mycobacterial infection in this tribe leading to high morbidity and mortality rate in this.
qualifications: PhD
contribution: supervised data collection
position: Reader & co-ordinator molecular & human genetics
-Working on Tribal Genome Diversity, -Genetic Susceptibility to diseases like Tuberculosis, particularly in Tribals, -Heat stress proteins: molecular organization and health perspectives, -Genetic conservation of endangered freshwater turtles and development of forensic markers.