Profile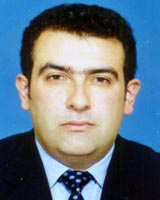 Turkey
Hakan YAMAN is a family physician with a Master of Science degree in Physical Education and Sports Sciences. He worked since 2000 as an Assistant Professor of Sports Medicine at Dep. Of Sports Medicine, Süleyman Demirel University, Medical School, Isparta, Turkey and became in Spring 2003 Associate Professor Family Medicine and established the Dep. Of Family Medicine, University of Akdeniz, Medical School, South Turkey; where he is working now as the chair and founding faculty.
He is member to European Rural And Isolated Practitioner's Association (Euripa) (National Representative), European Academy Of General Practice Teachers, European General Practice Research Network, European Society Of Primary Care Gastroenterology, Primary Care Diabetes, World Association of Medical Editors and Turkish Society of Family Physicians.
Dr. Hakan Yaman has several published papers on issues concerning family medicine training, family physician burnout, continuing medical education and epidemiology in international peer-reviewed journals.