Profiles And Contributions To This Article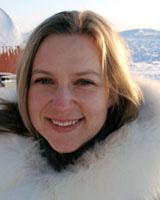 qualifications: MScPT
contribution: original concept, designed the project, supervised data collection, wrote the first draft, input data
position: Acting Territorial Rehabilitation Coordinator

Canada
Tracy Miller Mifflin is currently the Territorial Rehabilitation Coordinator for Nunavut, Canada, and a registered physiotherapist. Her research interests lie in developing and implementating innovative rehabilitation service delivery models for remote areas. Recently, Tracy developed and delivered the Community Therapy Assistant program for Nunavut Arctic College, which trained Inuit living in remote Arctic communities to work as assistants for rehabilitation professions. In addition to the prioritization tool discussed in this article, she also co-developed and implemented an ongoing yearly regional interdisciplinary program for clients with rheumatoid arthritis in the Baffin Region. qualifications: BScPT
contribution: original concept, designed the project, literature review, contributed to drafts, supervised data collection, input data
position: Medical student

Canada
Mandie is a life-long learner interested in all aspects of health; from community- based service delivery to health care policy, research to advocacy. She has demonstrated a continued yearning and commitment for the improvement of health conditions for Inuit and for Nunavummiut. Research interests include all areas of development and delivery of health care programs, services and policies in rural and remote practice areas Currently, Mandie is upgrading her skills to become a Physician with a goal of practicing in Nunavut.