Profiles And Contributions To This Article qualifications: MD, PhD
contribution: original concept, literature review
position: Chief professor

Korea, Republic of (South)
I am the President of Functional Water Society in Korea, Head Professor in the Department of Environemental Medical Biology in Wonju College of Medicine, Yonsei University, and Professor Researcher in Institute of Poverty Alleviation and International Development. I have interest in functional water research as well as public health and poverty alleviation studies. qualifications: MS
contribution: collected data
position: Researcher qualifications: BSc
contribution: wrote the first draft
position: Researcher qualifications: PhD
contribution: statistical analysis
position: Professor

Korea, Republic of (South)
I'm interesting at community health, global health (including rural health), etc. qualifications: MD
contribution: contributed to drafts
position: Medical superintendent qualifications: MS
contribution: contributed to drafts
position: Resident representative qualifications: PhD
contribution: supervised data collection
position: Director
public health public management public policy international development poverty alleviation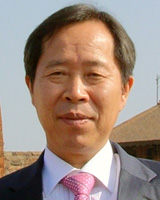 qualifications: PhD
contribution: designed the project
position: Research professor

Korea, Republic of (South)
Public Health Rural and Remote Health