Profiles And Contributions To This Article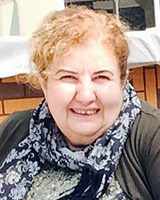 qualifications: Assoc.Prof.Dr.
contribution: designed the project, literature review, supervised data collection, statistical analysis, wrote the first draft, devised survey tool
position: The head
Assoc. Prof. Dr. Birgül Özçýrpýcý She was born in Gaziantep-Turkey in 1965. Birgül Özçýrpýcý, female, medical doctor, graduated from school of medicine, Erciyes University, Kayseri in 1990. She worked as general practitioner in different parts of Turkey between 1990- 95. She began to work as research assistant in department of Public Health, School of Medicine in Gaziantep, Turkey between 1995-2000. She became Public Health specialist in 2000, worked as Assistant Professor in the same department till 2010. She took Assoc.Prof. degree of Public Health in 2011. She has published 40 peer-reviewed manuscripts, including major public health problems, that approximatly half of these are in international journals. She has 56 oral and poster reports that 14 of these were presented in international congress. She is still working as associate professor in the same department till March 2011. She is the head of the department till November, 2015. Research interests: Immunization, Vaccination coverage, Environmental Health, Health Systems
qualifications: Assist.Prof.Dr.
position: Lecturer qualifications: Public Health Assistant
position: Assistant qualifications: Public Health Assistant
position: Assistant