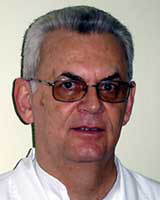 qualifications: bocsanioanstelian@gmail.com

Romania
Graduate (1973) of Medical School, Cluj-Napoca, Romania, and of many international courses related to community health (1994 Ann Arbor, MI, USA; 1995 Utrecht, The Netherlands; 1996 University of London, UK; 2002 University of Pavia, Italy; 209,2010,2011,2012 Fondation Merrieux Veyrier du Lac, France).
Board certification: 1973: M.D., Physiology. 1986: Ph.D., Epidemiology.
Practice experience: Professor and head of the Department of Epidemiology and Primary Health Care at University of Medicine and Pharmacy, Cluj-Napoca, Romania. Chair, Romanian Ministry of Health National Advisory Board for Epidemiology. Director, Institute of Public Health, Cluj-Napoca, Romania. National Expert at European Commission Directorate for Research, Development and Innovation for Health.
Professional memberships: Romanian Society of Epidemiology, APHA, ADELF, IEA, ISEE, AMEE, many other national and international professional bodies and editorial boards.